The Trailer for one day has finally been released and after having read the popular book by David Nicholls I'm having mixed feelings about it.
To start, the things I love; the locations, I'm glad to see a big film being set in London, although that really isn't much of a rarity after Harry Potter, Bridget Jones, quite a few films use London as its backdrop. But it's always nice to see home on the big screen. The other world wide locations provide good back drop. It's also a hopeless love story, it's a complete love story and for that reason, enjoyable. If not a bit too emotional at the end.
However my main problem has to be with Hathaway. For a start it's clear to see she's struggled with her accent, playing someone originally from Leeds who then moves to London it's probably hard, especially for an American, to get the Yorkshire accent right and then gradually soften it into a London one.
As well as this I often find that with books one of the main draws to the character, Emma, was her normality and how easy it was to relate to her. She's supposed to be Northern, a little bit fat, under confident, shy and at points really down on her luck. What would Hollywood movie star Hathaway know about any of this? From the trailer I can see she's never fat, only at a push, slightly chubby (in Hollywood standards). Maybe as a curse of her Hollywood over exposure and especially after having presented The Oscars earlier in the year it is hard to 'suspend your disbelief' and really get into the character and story you see on screen.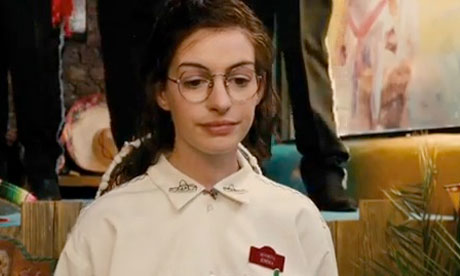 I really did enjoy the book so lets hope I'm not too disappointed when I see the film later in the year.
Turns out I'm not the only one with reservations. Someone at the
Guardian
also thinks so. They even go so far as to say:
Hathaway is, to be blunt, the anti-Emma. So it can't be done, I'm afraid, unless she is about to reveal hitherto unhinted at Streep-like talents for transformation.
They're also unimpressed with the trailer because it has too many
spoilers
, I've already read the book so no nothing for me to worry about there.